Commitment to hypoallergenic counter-measure
Tabinokiseki is working on the production of original chains that are specifically committed for hypoallergenic counter-measure.
Not only the cotton drawstring, we also use chain that is hypoallergenic, the fact that our metallic material does not contain nickel which is a allergy-prone metal.
※ There are people who cause metal allergy with gold and silver. We recommend a patch test at medical institutions for those who want to identify allergies.
Waxed cotton drawstring
Waxed cotton drawstring is durable and hard to cut, the length can be adjusted by moving the crystal parts up and down.
The metal is not used, so it is recommended for people with metal allergies.
Gold colored adjustable chain
It is an adjustable original chain in length, so it is possible to adjust in 1 mm unit according to the cloth or season.
Gold field is crimped to a thickness of about 30 times or more than gold plating. It is an affordable and enjoyable gold chain, hard to come off even used for a long time and is hard to get allergies.

Shizuku aroma accessory 14 karats Gold field
SV925 adjustable nickel-free (more than 99.9%) rhodium plated chain
Rhodium-plated chain (adjustable up to 45 cm)
The hypoallergenic chain is rhodium plated. It is hard to discolor and does not use nickel that is the main cause of allergy. When cleaning, wipe gently with a soft cloth. Do not use polishing cloth with abrasive.
【About metal allergy and nickel】
When the accessory is in contact to the body, with just a few sweat, the metal slightly ionizes and gets into the body that causes rejection, rash or inflammation.
The leading cause of metal allergy is nickel and has many occasion to be used for plating the surface of accessories. It is weak against acid, so extra care is required with accessories in contact directly with the skin such as necklaces, bracelets, earrings and rings.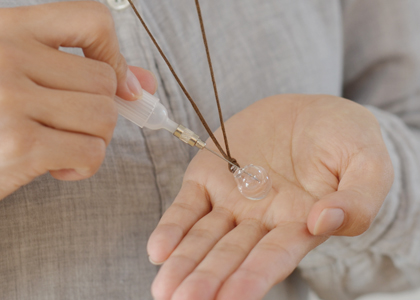 Let's learn how to use aroma pendant
Aroma pendant is Tabinokiseki's the most popular item.
Why don't you spend a wonderful time wearing transparent glass pendant top with your favorite scent?